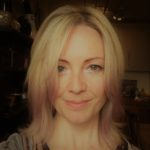 Donna studied singing and songwriting at Leeds College of Music, and regularly attends songwriting retreats to collaborate with other artists and writers.  One of her collaborators is Michael Garvin (the writer behind hits such as 'Never Give up on a Good Thing' George Benson, and 'Waiting for tonight' Jennifer Lopez.
She has had 2 songs 'Ladies' and 'Dragons and Lions' played on BBC Introducing (Leeds, and Shropshire), and has had several songs commended/semi-finalist in the UK Songwriting Contest.
She has also studied Creative Writing and Poetry and likes to tell stories through her song lyrics. As an artist she performs under the name 'Ortense Blue' whose Debut EP 'Safe to Make a Sound' was released September 2017.  The EP received a fantastic response from UK and International Radio stations and has led to more collaborations and songwriting commissions.
Donna is originally from London, has studied in Brighton, Derby and Leeds and now lives in Wales.
Leopard Music are delighted to add Donna as a Writer to their roster with a couple of her songs and are already working with her on other projects and collaborations.
Website: https://www.donnamariabottomley.com
Soundcloud: https://www.soundcloud.com/dmbottomley
Twitter: @ortenseblue and @dmbottomley