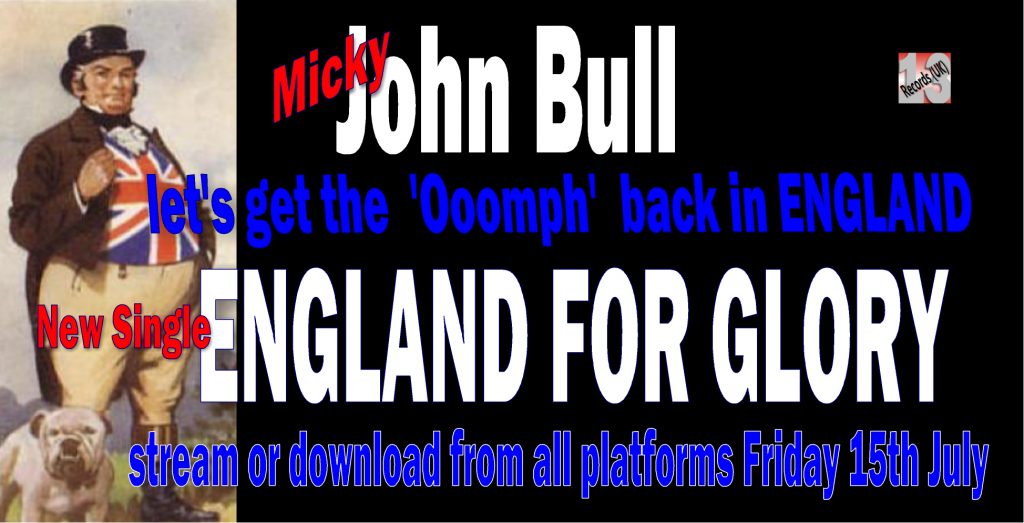 Brand new single
ENGLAND FOR GLORY
Release date 15th July 2022 on all digital streaming and download platforms.
Micky is a man with a lifetime of memories and experiences, an ideal guest for radio interviews.
He's fronted numerous bands, worked alongside many major stars, released a number of albums and singles in a career spanning more decades than he is willing to say.
MJB brought the world Super Rooster, The Office Christmas Party, Lockdown, Holiday, his last single in June 'Shine a Light on me' and countless other recordings that have all attracted much media interest.
England for Glory is a track to get behind your favourite England team, a big anthem for flag wavers everywhere.
He was approached by songwriter Paul Hobbs and asked if he would like to do it, so with producer Ken Lintern they set about a 'Micky' version of the song.
We are all looking forward to hearing it sung by the crowds at many different England Games in the future giving a boost to the Ladies and Mens teams playing football, rugby, cricket or any other team sport where they wear the shirt with pride, get behind Micky and the old JOHN BULL spirit and get some Ooomph into England once again.
Label : 13 Records (UK) 13 Records (UK) (13musicproductions.com)
Publisher: Leopard Music Limited http://leopardmusicgroup.com
Writer: Paul Hobbs 07766 956823
Press/Media : Jim Garrett jim@thesoundlabuk.co.uk
Direct : Micky 07966 464873 / info@mickyjohnbull.co.uk
(2) Micky John Bull "Comedy Entertainer" – Search Results | Facebook