Leopard Music are delighted to be promoting Moonshine Rebels with their exciting debut EP release, comprising four original tracks which showcases their multi-instrumental  skills with traditional Celtic influenced rock music and instruments combined with modern production for a unique sound.
You will find all the information below with links to their website. Paul and Sam are available for live interviews and auditions and we hope you will consider giving their music some airplay.
The EP will be followed by an album release in 2019, please contact us for any further information.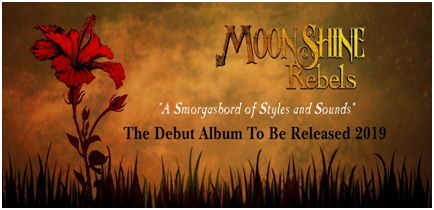 Moonshine Rebels combine folk music with high production values to achieve a finely crafted sound. Proving that a niche genre can be brought into the 21st Century, revitalised for a wider audience, yet remaining true to its roots.
Multi-instrumentalists Paul Sudlow & Sam McGrady are the craftsmen, writing and arranging each song to perfection, as well as playing the majority of instruments. They are also joined by musicians that add their own unique skills to the mix, to then be nurtured and shaped by producer Paul Hutchinson.
Bonnies Cafe Bar tells the bittersweet tale of the loneliness and friendships of the everyday barfly… There must be a bar like Bonnie's in every town, wherever you go, 'Where you'll never find a better clientele'.
Varley Street – A modern portrayal of life on the bottom line, trying to survive each day as it comes.
Bonnie Banks Of Fordie – An intricate murder ballad which takes you on a journey of an innocent walk that quickly descends into darkness with a twist like no other.
Eighty Shillin' is a tour de force of an instrumental, mixing traditional style Celtic tunes and instruments with modern day production to create a unique sound
Moonshine Rebels debut 13 track album to be released early 2019
Check out our website for more information:
Bonnie Banks of Fordie (Official Music Video):